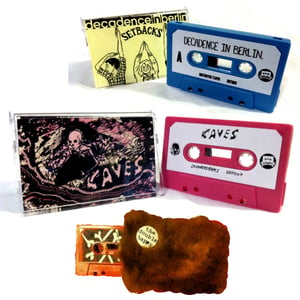 £

3.00
CAVES - Grunge on the Beach
Lo-fi summer jams, FFO Surfer Blood, Beach House, Wavves et al. I hear they are big Nirvana fans too, so they get big thumbs up from Distorted Tapes. Limited to 50 copies. DDT007
http://facebook.com/cavesrrad
------
DECADENCE IN BERLIN - Setbacks
Greatest "hits"/live album from Decadence in Berlin, featuring all of their studio recordings plus a never before released live set from December 2009. Lovely fold-out sleeve w/ lyrics, drawn by Robert Brown. Limited to 50 copies on pale blue cassette. DDT003
http://facebook.com/decadenceinberlin
------
THE DOUBLE HAPPY - Taxidermy
Long awaited dirty bastard of a single from Wolverhampton's The Double Happy. Featuring an ex-Ned and a whole lot of heaviness, this single is so dangerous we had to slaughter a load of bears to package these tapes. Limited to 30 copies in a fur sleeve.